Spring 2013
Changes to our Massage Therapy Fees
Please note that as of April 1st, 2013 the tax on our fees will change from 12% HST to 5% GST. At the same time, we will also be adjusting our massage therapy fees to the following*:
| | | |
| --- | --- | --- |
|   | Initial Visit       | Subsequent Visits |
| Thirty minutes | $70 | $50 |
| Forty-five minutes | $90 | $70 |
| Sixty minutes | $110 | $90 |
| Seventy-five minutes           | $130 | $110 |
| Ninety minutes | $150 | $130 |
*GST is not included in the fees listed above. Our 50% late cancellation fee & 100% missed appointment fee will also still be in effect.
Introducing our new Punch Cards for Yoga – Available for 5, 10, or 15 Classes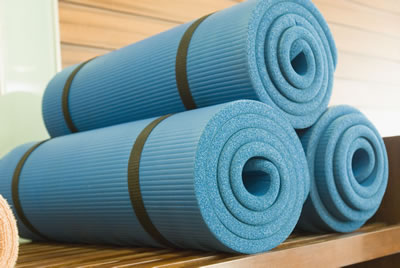 We know that it can be hard to make it to a Saturday yoga class every week so rather than doing enrolment sessions, we have switched to punch passes! This means that you can buy a 5, 10, or 15 class pass and come on the Saturdays that you are free, rather than stressing about having to come every week.
 These punch cards last for one whole year and are interchangeable between our three different classes (Hatha at 9am, Hatha Flow at 11am, and Prenatal at 1:30pm). Cards are available for purchase at our studio and will soon be available through our online store (opening in the New Year). Pricing is as follows:
5 class punch card for $75 +HST ($15/class)
10 class punch card for $145 +HST ($14.50/class)
15 class punch card for $210 +HST ($14/class)
December 8, 2012
Christmas Shopping this Saturday?  Drop by and see us at Heirloom Linens in Broadmead Village, between 9:30am & 2:00pm, where you can enjoy a mini massage as part of your Stress-Less Shopping. We will accepting donations for Santa's Anonymous and will also be doing a draw for an initial 30 minute massage ($70 value)!
September 29 & 30, 2012
Calm Massage Therapy & Wellness Studio will be at the 6th Annual Vancouver Island Baby Fair at Pearkes Rec Centre.  Come visit us at Booth 66 and enter our prize draw to win a massage with Deidra or Meaghan, a private yoga session with Tanya or a nutrition consultation with Susie.  But there's a catch — in order to enter the draw you must choose a name for our unnamed mascot bird and fill in the entry form.  If the bird finds a name that he likes, that person will be the winner of the draw.  However, if he does not, it will be a random draw.  At the booth we will also be providing massages and each one of the practioners will be available throughout the weekend to answer questions about their services.
On Saturday May 5th we kicked off our big week with an open house style celebration that included…
Complimentary chair massages, free yoga & infant massage demonstrations, a health & nutrition talk, discounts on bookings & gift certificate purchases & the launch of our new Health Packages that combine all of our wonderful clinic services together.
Christy from The Gallery Salon joined us to provide free hair consultations & Deana from Fijian Sun & Health Essentials Supplements was with us serving up samples of healthy MacaSure Chocolate & Vega Smoothies!! Complimentary beverages & mini cupcakes were also be provided!!
Guests who joined us were also entered into our door prize draw for a chance to win one of our amazing giveaways that included…
60 Minute Massage with Meaghan Mounce, RMT, CPT
60 Minute Massage with Deidra Corbeil, RMT
60 minute Private Yoga Session with Tanya Roberts, RYT-200
60 Minute Nutrition Consultation with Susie Wilson, RD
Infant Massage Lessons with Elizabeth Belfry, RMT, CIMT
Haircut including Wash & Style with Christy at The Gallery Salon
Tanning & Infrared Sauna Gift Certificates from Fijian Sun Tanning Studios
Lorna Vanderhaeghe Gift Basket from Health Essentials Supplements
THANK YOU TO EVERYONE THAT WAS ABLE TO ATTEND!! WE REALLY APPRECIATE THE SUPPORT!!
May 5, 2012
For our Grand Opening we celebrated all week long from May 5th to 11th, 2012. We offered special discounts and promotions throughout the whole week! Stay tuned as we plan to have another week of great promotions in the near future! 
For our Grand Opening Week we offered….
Gift Certificate purchases at 25% OFF*
Massage Therapy
Maternity Massage Therapy
Small Class Yoga
Private/ Semi-Private Yoga Sessions
Infant Massage Lessons
Nutritional Consultations with a Registered Dietitian
*Included massage appointments with Meaghan or Deidra, individual yoga class bookings or private/ semi-private yoga sessions with Tanya, infant massage lessons with Elizabeth, & initial nutritional consultations with Susie. One gift certificate per person per practitioner. Gift certificates expire August 31st, 2012.
**15% off the price of the individual services not the already discounted package price. Included our 'be relaxed', 'be renewed', 'be calm', 'be well', 'calm for two', & 'calm for four' wellness packages. One package per person but certain packages can be shared with others. Packages expire one year from purchase date.